Huhuhu. I had Astro installed around last month. We subscribed for the most basic family package as we only wanted to watch Raja Lawak and err, coz we really had to due to the aerial for the television has been broken by Cembam. Ahahhaa..so alang-alang if we were to fix it, we decided to get Astro instead.
But last Friday, my colleague sent me an email "watch my idol (Federer) walloped yours (Nadal) tomorrow morning 7.A.M". My god. I was so intrigued to watch it. Since I started playing tennis, I've never watched Nadal and Federer on the same court playing for the title or for the next round. One of them would always defeated before meeting head-on. The last time they clashed, I was at my sis' home whom subscribed Astro Warna. Uwahhh~~
So it was so intriguing to me. And after being persuaded by my colleague, I reached the phone, dialed the numbers, punched the extensions and the last thing I know, I have the sport package =]. But the CSR mentioned that the bill would be RM71++ for the additional sport package and a choice of either Discovery, Cartoon or Variety. I chose Variety. But my colleague said his bill is the same but he got 2 of the options. And yeah, I remembered when I was still at my bachelor house, we have that same package too. Hmmm..I better called Astro then.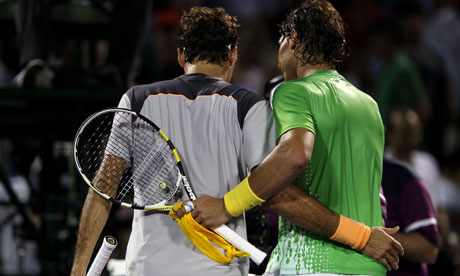 This morning after Subuh I stayed awake, switched the TV ON and watched Federer playing against Nadal for the first time live. But because my habit is sleeping after my subuh prayer, it was pretty damn hard to stay awake. I managed to watch just nice till the 2nd set 3-0 but then the next thing I knew, my wife was already by my side and I was lying on the sofa "kata nak tengok sangat main". When I checked, it's already over. So, the only thing I can assume, Roger lost!! And it's true..ehehehe!!!
Worait...I'll be watching Nadal vs Novak tomorrow. Hoyeahhh!!!