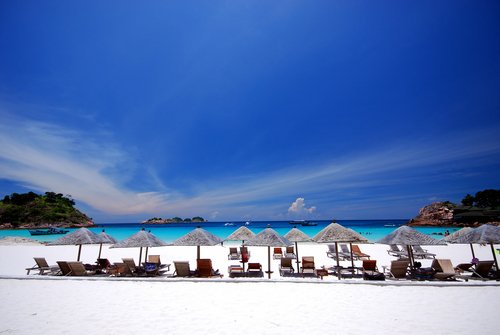 Gambar credit to google. Just wait how my own Redang Island pictures would be. Hehehehe~~ SyahShah, kalau ko ada kat salah satu bench tu leh kita borak-borak.ekekeke.
I took half day yesterday as I was so lazy to come on time. It's already 11A.M but I was still lazying on the sofa watching the Nanny in the Hallmark channel. Usually I wouldn't take a half day if I were late but I skipped my lunch (that's 1 hour) and I finished my work at 7P.M (another 1 hour) instead and that would compensate the late 2 hours.
I thought I could finish up my packing last night but I dozed off early but yet to rise as early this morning. Hahaha. So, the initial plan to perform the Friday prayer with my colleague, head home to pick up the bags and start my journey has changed to go home at 12, pack, Friday prayer and kick-off. Huhu~~
I don't really know what to expect from my vacation or shyly called honeymoon. I hope the choice of the venue is an appropriate. Hope the weather is fine and hopefully there wouldn't be any bizarre occasion like the fucked up Israelis army swarming the island and kill some of us, blood everywhere with a reason "Our Intel informed that Osama is here". Owkh..Ok, that's too much of a drama!!
I'm looking forward to the snorkeling activity. Cembam forgot to bring her contact lense that she bought before our wedding and never been wore as she said her eyes wouldn't stop blinking when she tried to put it on. Ahhh..I just hope that wouldn't spoil the fun.
Nak amek gambar dalam air camni tak dapek ar. But I really hope I could see the colourful fishes like this when I snorkeled this weekend!!!
Oh, speaking of which, my father had his first snorkeling experience at Pangkor Island few days back. But the wave was so strong back then and they couldn't see the fish as nice as it's supposed to because the water became muddy and not as clear as they hoped. So Dad said I should go home, pick him up and bring him along to Redang. Ahahahaha!!! So like my Dad. And I said to my sis, no chance bebeh.
Pray for my safe journey everyone and safe sex..errr..yah. That one too.