>> Monday, May 17, 2010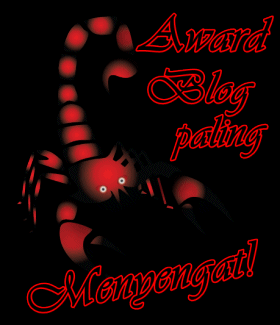 First and foremost, thanks to Tom for rewarding me this very award created exclusively by himself. I'm honoured. Eventhough I'm not really sure how often you visit my blog coz I rarely see your comment, but hey, visitting and commenting is totally 2 different things. Again,thanks for the award.
Secondly thanks juga pada Jard yg share about the cheapest DSLR sale tu. I would probably have a try and see if the deal is such a nice and irresistible one. Kalau dapat beli baru, best skit Honeymoon ku nanti. Please remind me ye Jard, aku ni pelupa. Thanks.
Wokeh, weekend kali ni I spent it rather wastefully. Just lazing around on my mattress and watched some movies. 4 movies till evening actually. Then tido umah adik kat Shah Alam. My niece ada pertandingan menari peringkat negeri wakil tadika dia. Alahaiii..tengok pun tak percaya dia leh nari. Dia tak penah pun nari depan his parents. If he was asked by my auntie memang takkan nari. Tapi during the competition..so cuteeeee. Ada video. Tapi tak sempat nk save. Lagipun jauh, tak berapa jelas. Apa pun memang tak sangka lah. Competition tu buat kat PKNS Shah Alam.
Ini la si Haikal yg lembut dan baik je. Tak sangka yg malu-malu ni leh nari. Siap lenggok bontot. Dlam team dia, dia ketua and paling pandai menari kalau tgok video tu. Sayang dh takde kamera nk amek gambar dia beraksi. Aku tau pn bila dh abes, adik lambat bgtu.
This morning layan boling sat kat Summit. And balik dari umah adik ku 10 malam. Ujan sepoi2. Mujur tak basah. Then terus online kat umah. Memang nak menempah bala aku ni. Plan to spend quality time with my wife at Cameron Highland. Personally, I don't really want to go there. Been there once, and not that many things could be done. But Cembam has never been there. Why not. Eventhough many people it's not as cool as before, but still cooler than KL kot kan.
So, aku pun menempah bala la ke sana lepas berfikir2. Siyes ni. Gua tempah bala. Kalu korang pun nak menempah bala sama cam aku kat sana. Haaa...
meh sini
.Thanks Zonaku bgtu pasal pameran travel jalan2 kat PWTC. Siap call utk bagitau lagi. Really appreciate. Tp I couldn't make the decision sebab tak tau whether the package is worth the money ke tak. Tak recce lagi kan. So I stick to
menempah bala
la.
Ok. Wanna sleep. Errr..watch movie first. Hehehe..bubbye. Oh yeah, IP Man2 still nice if you asked me. Surely not that many action as the first one because the 2nd one story is more on how Master IP Man try to establish back his kungfu school. Watch it guys!!!